Marketing Calendar 2020: Dates You Shouldn't Miss This Year
23 Dec 2019
23 Dec 2019 • BLOG - News
Somehow, you survived 2019 and now we're back in Q1! 2020 is here and it's time for you to start scribbling down your New Year's Resolutions. If you've found your way here, we're guessing that's because "Crush Marketing in 2020" is probably one of your resolutions.
To help with that, we decided to recap all relevant dates for 2020 in one blog post to help you strategize for the year ahead. Read on and find out which dates you should include into your marketing strategy and get our free 2020 Marketing Calendar.
Why is it important to have a Marketing Calendar for 2020?
Most people think that the implementation of a marketing strategy is the longest part of the process, when it is actually one of the easier steps at the end of the process. The real work comes before, when you're setting goals and establishing priorities.The earlier you start planning through every step of the strategy, the less problems you'll run into down the line.
Before you start, ask yourself these questions:
What do you want to achieve and how can you get there?
What are your USPs? Why should people buy your products or services?
What sales promotions can you offer (special deals, freebies, discounts…)?
What distribution channels are best to achieve your goals?
Keep in mind that a year has so many special dates, holidays, and marketing moments – planning is a must in business and in life!
It is important to decide which promotions (special deals or key product sales) you want to focus on, and this decision should be based on the goals you established for yourself when you planned your marketing strategy. Focusing on the wrong promotional strategy can easily ruin your KPIs, and nobody wants that!
When thinking about your holiday or special day marketing campaigns, remember to plan out your promotion in different stages:
Before the actual date: Let your customers know about what's coming ahead of time and how they can benefit.
During the day itself: Make your big sales push via email and leverage any social media buzz.
After the main event: Don't forget to follow up with those that converted to obtain their feedback on the process or offer additional products or services.
Finding the right marketing channels
Once you have decided what the right marketing strategy is and what kind of sales promotions you're going to offer, you'll need to focus on the distribution of these marketing messages.
For marketing promotions around special dates, like the ones we've added on our Marketing Calendar, the best strategy is to go omnichannel. Marketing campaigns around these dates that combine different channels (for example, in-store, online, social media or email marketing) allow you to engage with your audience in a different way and also provide many upselling and cross-selling opportunities.
There is a range of channels for you to leverage, but that doesn't mean you should try to use them all just to tick those boxes. While something like TikTok might be a bit of a stretch if you're trying to sell dental implants, there are a few must-haves that will apply to most businesses.
One of those channels is email (yeah, you probably guessed that…). Email continues to be the best marketing channel for ROI, as it allows you to personalize, segment, and optimize your email campaigns with detailed stats. Another big plus is that your marketing messages will stay in your contacts' inbox for them to use that promo code or find your store's address when the time comes.
Marketing Calendar for 2020
January
You already know January is all about New Year's resolutions, goal setting, and also maybe feeling a little bit blue now that the Holiday Season is over.
Start off by wishing your users a Happy New Year and use this month to offer special deals on products or services that might come in handy when they start working on those New Year's resolutions.
Other special dates in January include the Chinese New Year and Blue Monday, so think about what you can do to make your users days a bit warmer!
Dates you shouldn't miss in January:
January 1st: New Year's Day
January 8th: Winter Sales (European countries)
January 20th: Blue Monday
January 25th: Chinese New Year
January 28th: Data Protection Day
Resources to plan your January marketing campaigns:
February
The excitement of the new year might be gone, but that doesn't mean February hasn't got some special marketing dates in store for you!
In fact, February has two of the biggest marketing moments of the year: Valentine's Day and the Super Bowl.
According to the National Retail Federation (NRF), US Valentine's Day gift-givers spent a record-breaking $20.7 billion in 2019, and they are predicted to spend around $14.1 billion on food, decorations and team apparel for the Super Bowl, with each person spending an average of $75.
Looking at these figures, February is definitely a month to keep in mind when it comes to creating marketing campaigns.
Other special dates in February include Groundhog Day, always fun on social media, and Mardi Gras.
Dates you shouldn't miss in February:
February 2nd: Super Bowl
February 2nd: Groundhog Day
February 14th: Valentine's Day
February 25th: Mardi Gras
Resources to plan your February marketing campaigns:
March
March is all about women… and green. 🍀
We're moving away from all the muscle power of the Super Bowl and onto a different kind of power this month: the power of women. March is all about the movement of women's rights, with International Women's Day being celebrated on March 8th.
So use this opportunity to show a bit of your corporate side and share stories from the women in your company and how you support equality in the workplace.
Other special dates in March in our Marketing Calendar 2020 include World Wildlife Day, National Pi Day, Mother's Day in the UK and a fan-favorite… St. Patrick's Day!
Dates you shouldn't miss in March:
March 3rd: World Wildlife Day
March 8th: International Women's Day
March 14th: National Pi Day
March 17th: St. Patrick's Day
March 22nd: Mother's Day (UK)
Resources to plan your March marketing campaigns:
April
With Easter starting in April this year, you can look forward to longer and warmer days for your easter egg hunts! Plus, people are starting to travel during these dates as the weather warms up.
For some, Easter is all about tradition, be it religious or not. For others, it's more about the chocolate rabbits and egg hunts. So why not hide an Easter Egg in your marketing campaigns to increase engagement this April?
Other special dates in April include Earth Day and April Fools, so maybe a great excuse to have some fun with your email marketing campaigns?
Dates you shouldn't miss in April:
April 1st: April Fools Day
April 10th: Easter Friday
April 13th: Easter Monday
April 22nd: Earth Day
April 23rd: Start of Ramadan
Resources to plan your April marketing campaigns:
May
There are a few important dates in May, but is there any more important than Star Wars Day? Whether you're a fan or not, there's no denying this is a BIG date on social media, so make sure you leverage it!
Many countries also celebrate Mother's Day in May as well. This is a time for many to show appreciation towards their mother(s) and mother figures.
This day (and of course the other 364 days in the year) is perfect to lavish mothers with lots of love, flowers and chocolate. So remember to think about moms everywhere when you plan your special offers and promotions.
Other special dates in May in our Marketing Calendar for 2020 include May Day or Labour Day in many countries and the start of Roland-Garros for tennis lovers.
Dates you shouldn't miss in May:
May 1st: May Day
May 4th: Star Wars Day
May 10th: Mother's Day (US)
May 24th: Roland-Garros
Resources to plan your May marketing campaigns:
June
It's getting warmer and warmer outside.
For many companies, the summer means a slump in sales. Instead of (online-) shopping, events like vacations and other outdoor activities are in people's minds.
So don't be surprised if your marketing performance starts to decline rather than grow during the next few weeks.
Does this mean you should interrupt your email marketing campaigns? Absolutely not!
In fact, the summer might be the best time of year to stand out from your competitors and get in touch with your contacts, so make sure you start working on adjusting your email marketing strategy for the next couple of months.
June is also Pride Month and Father's Day in many countries. This year, it will also be big on the sporting side, with the Euros 2020 adding on to the usual Tour de France.
Dates you shouldn't miss in June:
June 1st: LGTB Pride Month
June 12th: Euro 2020 Starts
June 21st: Father's Day
June 21st: World Music Day
June 27th: Tour de France
Resources to plan your June moment marketing campaigns:
Want to start sending amazing emails right now?
Create stunning campaigns for the most important marketing moments in 2020 with our drag & drop email editor and reach your contacts' inbox with first-class deliverability.
July
The holiday season is finally here! And even though we warned you to plan ahead in June, you might be finding it quite challenging to keep your users engaged during the summer.
The good news is that this year, we'll have the Euros 2020 final and the Olympics! From July 24th till August 9th, people from across the globe will come together in Tokyo and everyone will be watching.
Other special dates in July our marketing calendar 2020 include the Summer sales period in some European countries and Emoji Day!
Dates you shouldn't miss in July:
July 1st: Canada Day
July 4th: US Independence
July 14: Bastille Day – French National Holiday
July 17th: Emoji Day
July 24th: Olympics Opening Ceremony
Resources to plan your July moment marketing campaigns:
August
August is generally a slow month in many countries. The summer is in full swing, but as the weeks pass, more and more people start coming home from their vacation.
So it's the perfect time to target them with any offers or promotions they might've missed.
How do you this effectively, you ask? Well, with email segmentation, of course!
With email segmentation, you can filter contacts based on their past behavior (for example, anyone that hasn't opened an email since xx/xx/2020) and resend them any special summer offers they might have missed.
Dates you shouldn't miss in August:
August 7th: International Beer Day
August 9th: Olympics Closing Ceremony
August 19th: World Photography Day
Resources to plan your July moment marketing campaigns:
How Email Segmentation Can Increase Your Conversion Rate
September
September is here and it's Back-to-school season… and not just for kids!
In fact, September sometimes feels like a second January. Some might hate it, some might love it, but we all feel it. New goals, new projects, and new marketing opportunities. Children (and adults!) can't wait to buy new school bags, pens, pencils and planners for the new school year.
Keep that in mind and plan some marketing campaigns to re-engage your customers after the summer with incentives like special promotions, sweepstakes, and exclusive offers.
Dates you shouldn't miss in September:
September 1st: Back to School
September 7th: Labor Day (US)
September 19th: Oktoberfest
September 21st: International Day of Peace
Resources to plan your September marketing campaigns:
October
The scariest month of the year has finally arrived!
Autumn is officially here, and so is Halloween! This means that, offline as well as online, monsters and other creatures could be just around the corner, waiting to scare people off.
For marketers, October marks the start of Q4 and the Holiday Season, a huge period for brands everywhere. With big dates coming up, it is the time to start planning what the Holiday Strategy will look like, and also the moment to let our creative juices flow and start getting festive.
Dates you shouldn't miss in October:
October 12th: Columbus Day
October 20th: World Mental Health Day
October 31st: Halloween
Resources to plan your October marketing campaigns:
November
November is the strongest time of the year for B2C sales and the official month for buying our Holiday gifts. Immediately after Thanksgiving comes Black Friday, Small Business Saturday, and Cyber Monday, so it's time to kick it into high gear.
In other words: You should definitely have these dates marked in red on your marketing calendar 2020 as this is the best time for special promotions and offers.
We know you won't forget, but just in case, we've already marked them for you on our downloadable Marketing Calendar for 2020.
Dates you shouldn't miss in November:
November 14th: Diwali
November 26th: Thanksgiving
November 27th: Black Friday
November 28th: Small Business Saturday
November 30th: Cyber Monday
Resources to plan your November marketing campaigns:
PS: Have you checked out our Black Friday email template yet? ;)

December
The best comes last: It's finally Christmas!
It's cold outside, the streets are covered with snow, and there's festive decorations and lights everywhere! While some prefer to go outside, those that stay in might do a lot of online shopping for those last-minute Christmas presents.
This is your chance to give Q4 a final push with special holiday campaigns and offers!
But December is not just about selling, it's also about joining in on the festive atmosphere and thanking your contacts for spending the year with you.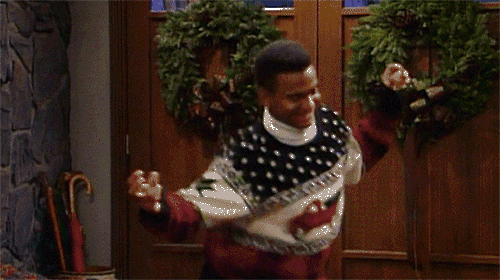 You can get creative and run a little Christmas competition on social media (Best Christmas Tree or Craziest Holiday Decorations) where your customers can win coupons or goodies, or film your team singing Christmas Carols for an original Merry Christmas campaign.
As you can see, it doesn't get more creative than December to end the year successfully.
Dates you shouldn't miss in December:
December 10th: Hannukah
December 24th: Christmas Eve
December 25th: Christmas Day
December 26th: Boxing Day (UK)
December 31st: New Year's Eve
Resources to plan your December marketing campaigns:
Download the 2020 Marketing Calendar
We've saved the dates you can't forget and given you all the resources you need to make 2020 your best marketing year yet. Now it's up to you to work on your campaigns and increase engagement with your offers, promotions or competitions.
Want to take this Marketing Calendar for 2020 with you?