"Improve your email deliverability and monitor action in real time."
Get started now!
no engagement, no hidden fees or Learn more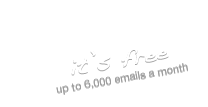 "Send transactional or bulk emails with a 5 minutes setup"
Connect your Apps
"Make our product yours with our powerful APIs"
Integration with platforms
"Plugins for every platform, from WordPress to Ruby on Rails"
Mailjet

is a

real-time Cloud Emailing

platform: scalable, agile and flexible!

Our unique algorithm boosts your deliverability and our platform provides in-depth insight so you can optimize more than ever.
Because 20% of emails never reach the inbox Mailjet is a logical choice!
How
Mailjet

Works

A simple 3 step guide to use Mailjet.

1 Fast and easy set-up
with expert assistance Get Ready - Create your free account, download our library and change your SMTP parameters.

2 Send transactional and
marketing emails Sit back and relax! Mailjet will manage your initial warm up to ensure your emails reach the inbox.

3 Get real-time flow
and detailed reports Cruise & Optimize - Leverage Mailjet's analytics and integrate further with the API.
Why use
Mailjet

's Cloud Emailing

Four simple reasons why you should use Mailjet to improve your email deliverability and monitor action in real time.

Emailing made easier Forget about SMTP and server maintenance. Forget about your 20% of legitimate emails that never make it to the inbox. Mailjet is easy-to-use, via the online platform and very easy to integrate via SMTP or API.

Full flexibility & lower costs Mailjet's flexibility guarantees that you can always adapt your sending capacity, up or down. Elastic volumes are not longer an issue and you never pay more than what you need. Save time, energy and money!

Quick & easy integration Set-up through SMTP in a few minutes and integrate easily by using our open API. New plugins and add-ons will allow you to use Mailjet with your favorite applications.

Unique features Start focusing on your business! Our platform is easy as pie: you click on "send" and we take care of the rest. You will also get in-depth stats and useful tools to be more efficient than ever.
Mailjet's top features
An intelligent system that optimizes your sending performances.
Benefit from our smart technology that selects the best IP address available, by looking at features such as the sender's parameters, the types of messages or the IP reputation. As a result you will experience a better deliverability and thus, improved ROI on your emailing.
Stop worrying about delays: enjoy immediate sending and live follow-up.
Transactional emails get instantly delivered. This is a keypoint: your prospects or customers will no longer have to wait for an order confirmation or a password reset. Same thing for the follow-up: observe the charts, tables and statuses of your sent emails as they change. Real-time is a guarantee for reliability.
Now, you might be missing some essential features, so we provide them to you.
You will get access to feedback loops: these are essential, but hard to gather in a systematic way if you do this on your own. A lot of other basic tools, like the auto-blocking of addresses that are generating bounces and spam complaints, will help you to qualify your email database and identify undesirable recipients That's the key for a successful email marketing strategy.
Powerful and accessible to everyone: enjoy the possibilities that the openness of our platform provides!
Each account includes full API access so you can easily develop your own scripts and applications on top of our system. This with almost any programming language! So no matter how specific your needs are, with Mailjet you will always find a way to make it fit to what you want. At any moment, the support team will put you in contact with the right persons who can help you get what you need.
They trust
Mailjet

like 17,552 other customers do

We deliver successfully millions of emails every day for them! 5 testimonials - 4.5/5
We have fully integrated Mailjet to our platform! The result is that we can now leverage the richness of our user database to communicate more smartly than ever!

Mailjet is an easy-to-use emailing solution. You set it up in a few minutes and it will instantly boost your deliverability!

Mailjet is an easy as pie Cloud Emailing solution. Quickly after a few configuration clicks, you'll notice huge improvements in your campaigns!

What I love in Mailjet is that I don't have to bother about my emails: they simply get delivered! The real-time analytics allow me to optimize and check that everything's fine.

During the development with the provided API, the Mailjet team was highly responsive. This allowed us to quickly and easily achieve our goals.