"Create & Design Astonishing Newsletters In Only A Few Minutes."
Get started now!
no engagement, no hidden fees
Your Cloud-App To Design, Send & Track Your Newsletters
No Technical Skills Required: just drag-and-drop, we do the rest.
Cheer Up Your Newsletters: Magical, Simple & Costless
Our tool empowers anyone to successfully manage a campaign from A to Z.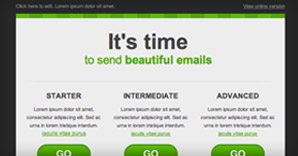 Simplicity: Become An Email Ninja
Forget about HTML and code: we offer you an amazing WYSIWYG interface. This means you simply have to drag'n'drop the elements you want to use: photo, text, social media buttons... You can focus on your content: no more tech-related headaches!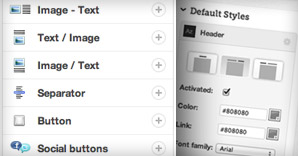 Creativity: Craft Fancy Emails
Our Newsletter Editor is very flexible and your imagination suffers no constraints. Adjust the positions, personalize the layout and be your own boss. The result is beautiful and people believe you work with a Web Designer.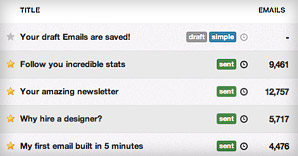 Value: Pay As You Send
Email is the number one channel. We believe any organisation or individual should be able to communicate with this tool. Therefore, our Newsletter Editor is available for free. You don't need to pay any extra to enjoy this terrific feature!
How Does It Work?
You're only a few steps away from achieving your email objectives.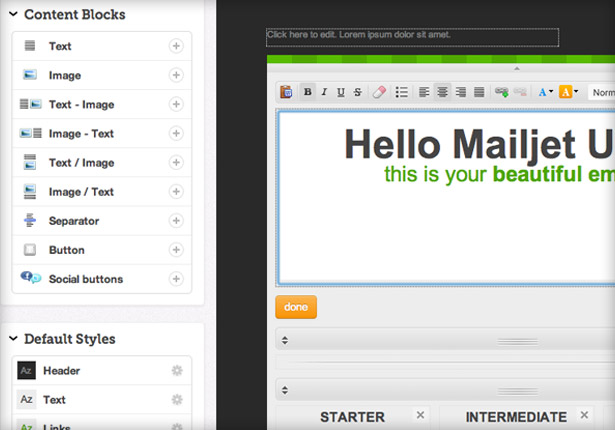 I- "Cloud App" Means "No Installation"
Just create your account and immediately start using our platform. Access to your dashboard from all your favorite devices, including the mobile ones.

II- From Templates Or From Scratch
Two options to create your first Newsletter: choose one of our multiple templates, or use our drag'n'drop blocks to build it all by yourself.

III- Rely On Automatic Optimization
Mailjet fine-tunes your email to improve its deliverability and compatibility with all the email clients or mobile devices.

IV- Modify HTML If You Want To
Would you like to quickly incorporate one or two HTML modifications? No problem, an interface will let you edit the code.

V- Get Extensive Email Analytics
Terrific live analytics to track success: who, when, where? Get all the insight a marketer can dream of.