All in one email solution
"An undelivered email is a lost prospect. 20% don't reach their recipient"
Increase your deliverability and optimize your IP reputation in real time with a 5 minutes setup.
Affordable & scalable, our solution doesn't require HTML or other technical skills.
Precision email delivery management
Be sure each email from your website gets maximum chances to reach the Inbox. ISP rules (DKIM signatures, ...) and recommendations change frequently. We manage this for you, and more: we monitor your campaigns and IP address reputation dynamically to ensure maximum deliverability.
Easy 3 minute set-up: Change one SMTP parameter on your website and you are ready to use Mailjet.
Real-time efficiency: View the charts, tables and status of your emails sent as they change in real-time, providing you with full transparency.
Increased deliverability: Our unique algorithms ensure emails are routed via the most effective IP address. Our partner Return Path (TM) enables us to dynamically measure and manage IP reputation.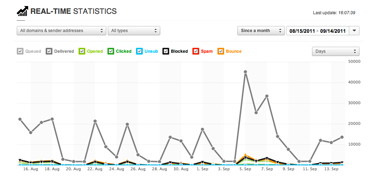 Increased email deliverability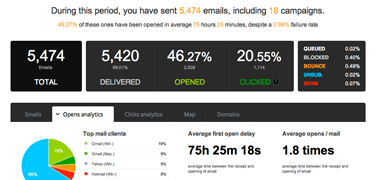 In-depth reporting
Dedicated IP address: Avoid the potential of reductive performance and negative reputation issues by managing your own dedicated IP status.
Reputation management: Benefit from our smart technology that measures and increases campaign deliverability by applying optimization features such as senders parameters, message content check, ISP volume restrictions and much more.
Advanced deliverability settings: Include of course full support of DKIM (DomainKeys Identified Mail), SPF (Sender Policy Framework), local ISP recommendations... to ensure an excellent deliverability for your emails.
Multiple API Options: You can develop your own scripts and applications on top of our system, and gain access to our API from almost any programming language.
Alerts & statistics: You can track emails sent in real-time. Receive campaign alerts, and manage each campaign's open, bounce and spam rates.
Improved error handling: Numerous tools to help qualify your email base and identify undesirable recipients, like auto-blocking of addresses that are generating bounces and spam complaints.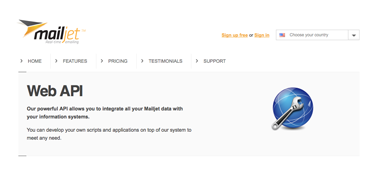 Improved error handling