All in one email solution
Transactional email, bulk email and newsletter in 5 minutes
Increase your deliverability and optimize your IP reputation, no technical skills required.
---
Fast & easy
Easy 3 minute set-up: Change one SMTP parameter on your website and you are ready to use Mailjet.
Real-time efficiency: View the charts, tables and status of your emails sent as they change in real-time, providing you with full transparency.
Increased deliverability: Our unique algorithms ensure emails are routed via the most effective IP address. Our partner Return Path (TM) enables us to dynamically measure and manage IP reputation.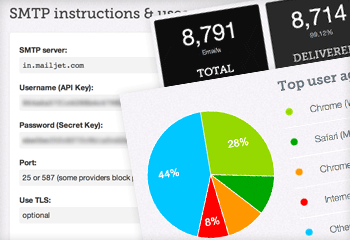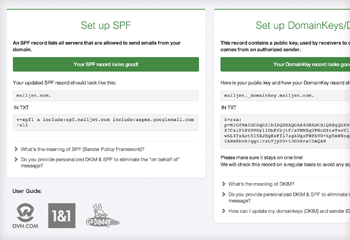 Precision & deliverability
Dedicated IP address: Avoid the potential of reductive performance and negative reputation issues by managing your own dedicated IP status.
Reputation management: Benefit from our smart technology that measures and increases campaign deliverability by applying optimization features such as senders parameters, message content check, ISP volume restrictions and much more.
Advanced deliverability settings: Includes full support of DKIM (DomainKeys Identified Mail), SPF (Sender Policy Framework), and local ISP recommendations to ensure excellent deliverability of your emails.
API for developers
Multiple API Options: You can develop your own scripts and applications on top of our system, and gain access to our API from almost any programming language.
Alerts & statistics: You can track emails sent in real-time. Receive campaign alerts, and manage each campaign's open, bounce and spam rates.
Improved error handling: Numerous tools to help qualify your email base and identify undesirable recipients, like auto-blocking of addresses that are generating bounces and spam complaints.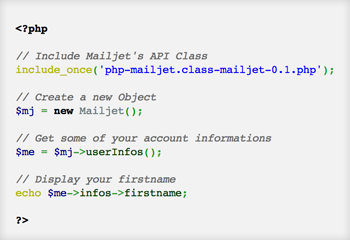 Get started now!
no engagement, no hidden fees
Create your professional newsletters with our free do-it-yourself tool. No technical skills required.
---
Simple tools
Easy upload, set-up and creation: Our tool is simple. Writing a newsletter and uploading contacts have never been so easy.
Full contact management: Upload different contact lists manually or automatically from your website. We manage your subscribers & clients databases. You only care about sending out the right message. We'll manage the rest.
Simple HTML Importation: Want to create your emails from scratch? No problem. Mailjet lets you import your code. But you will still benefit from the automatic unsubscribe link, the multilingual legal mentions, the campaign statistics... In other words: all Mailjet's advantages!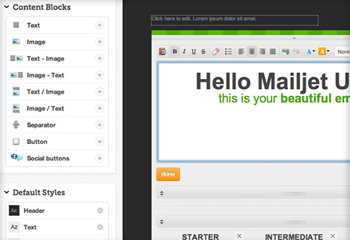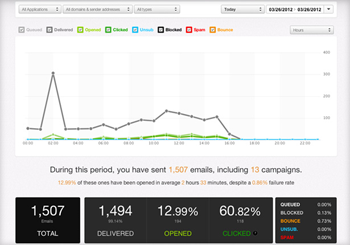 Real time statistics
Powerful, real time statistics on your campaigns: Track in real time all campaign statistics. Run A/B testing mailings. Improve the quality of your sender lists and opening rates. Measure and create useful reports.
Get Better Results: Mailjet's technology relies on the cloud power. This allows you to benefit from a unique scalability. Mailjet ensures that the messages reach their recipients: our algorithm optimises your deliverability and a set of powerful tracking tools allows you to measure success in real time.
Cheap & scalable
Tips and templates: Variety of templates for your inspiration and series of tips are available to increase emailing efficiency with key statistics (coming soon).
Full flexibility & lower costs: Mailjet's flexibility guarantees that you can always adapt your sending capacity, up or down. Elastic volumes are not longer an issue and you never pay more than what you need. Save time, energy and money!