Let's get started!
i) Add a Contact Property
From your
Contacts
page, click on
'Contacts Properties'
.

Click the
'Add a new property'
button.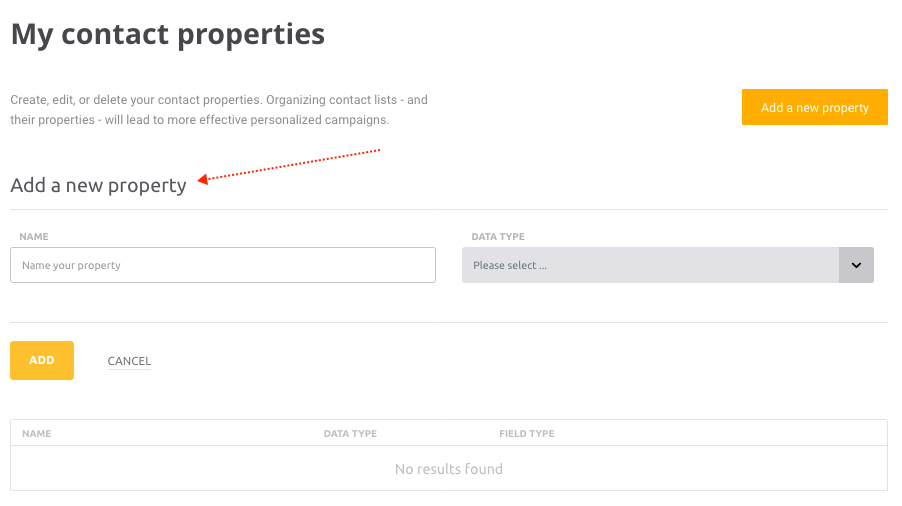 The screen will expand to show the 'Add a new property' section.

Each contact property is made up of 2 components: Name, and Data Type.
Name:
The contact property name is an internal label; only you can see it. The name should be descriptive and only contain letters; no numbers, symbols or spaces.
Data type:
There are 5 data types you can choose from:
• String: Alphanumeric data (name, address, salutation, …)
• Integer: Numbers with no decimals (age, days since last purchase, …)
• Decimal: Number with a decimal point (purchase history, …)
• Bool: True/false (yes/no) field
• Date: You can upload your date property in several formats (FAQ:
Supported Date Formats
). But the date will be displayed in a format based on your country setting (i.e. US will have the default yyyy/mm/dd)

Let's create a new contact property:

That's it - your first contact property has been created!

ii) Modify a Contact Property Name
To change the name of a contact property, click on the 'pencil' icon and then enter the new name.
Enter the new name and click the checkmark to save.
iii) Delete a Contact Property
!

If you delete a contact property, any associated data for that property that is stored in your contact lists will also be removed.
Hover your mouse over
Manage
then click the
trash icon
. Then confirm the deletion.