Summary
Introduction
Trends move quickly these days and with that consumer behavior as well. Are your email campaigns keeping up? With Campaign Comparison, you'll always be able to find the most appealing content to engage your customers ever changing tastes.
Our results page is packed with visual and quantitative data. Gain a holistic view of your campaigns through the graph or an individual breakdown through the chart below:
• Toggle displays and metrics
• View rankings and averages
• Create & manage Benchmarks.
Everything you need to analyze and continuously optimize your campaigns!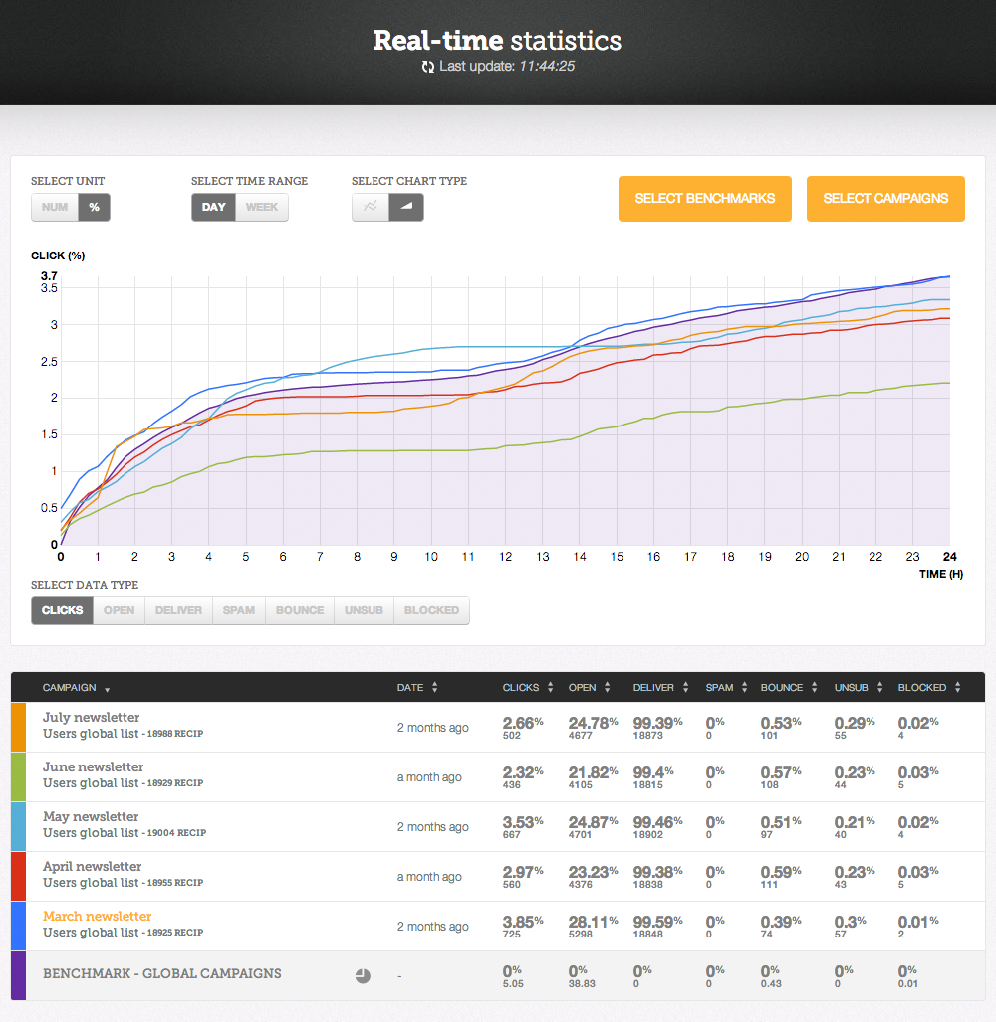 How to Access Campaign Comparison
The 'Compare Campaigns' button can be found in several places:
On your Campaigns page,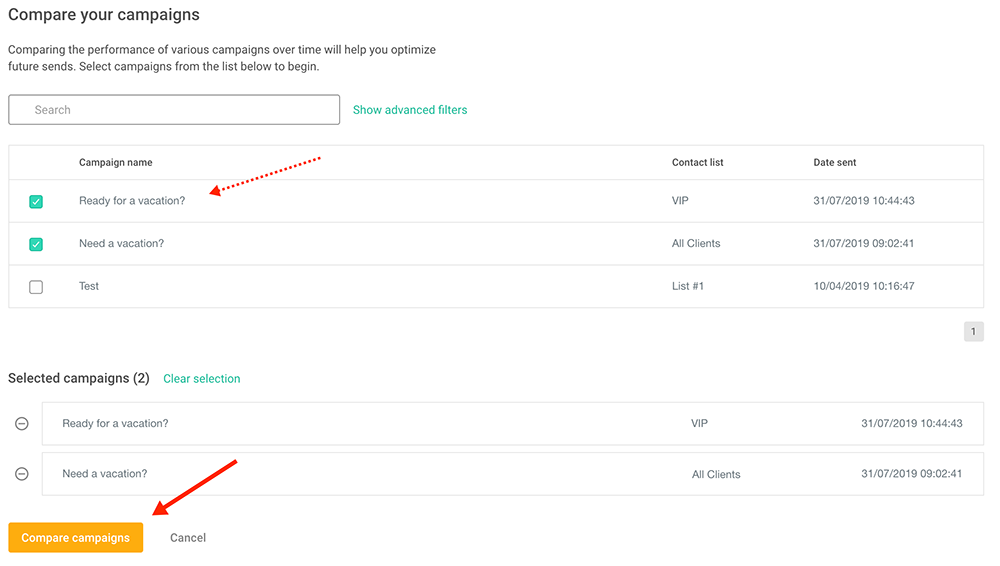 and on a campaign's details page.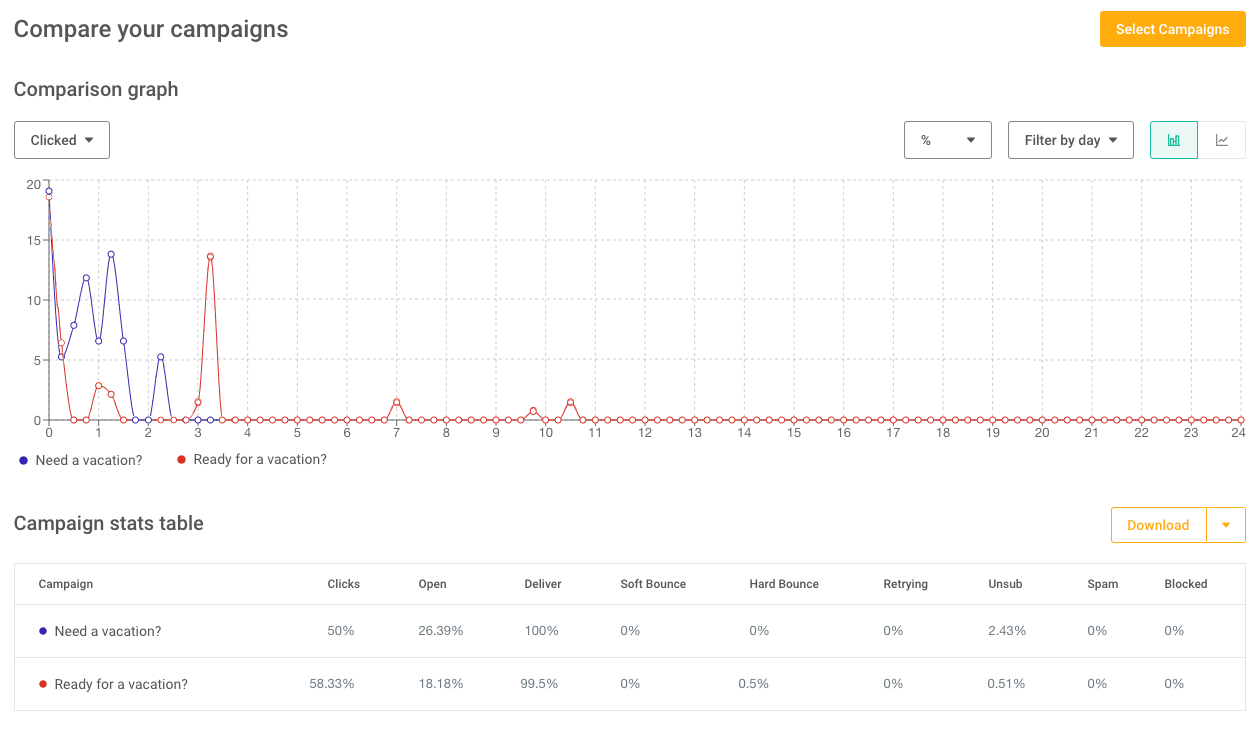 Using Campaign Comparison
From your Campaigns page, click the 'Compare Campaigns' button.
A new popup window will appear, where you can select up to 10 campaigns to compare simultaneously.
Once you have selected all your campaigns, please click the 'Submit' button to continue.
Campaign Comparison Results
The results are displayed in a graph and summary chart format to easily let you determine what part of your campaigns your customers responded positively to.
The graph results are updated for 7 days from when the first email was sent. After the 7 days, the results are no longer updated in the graph.
The data in the table shows the lifetime results for each metric of each campaign, and is continuously updated.
Let's take a closer look at a breakdown of each section: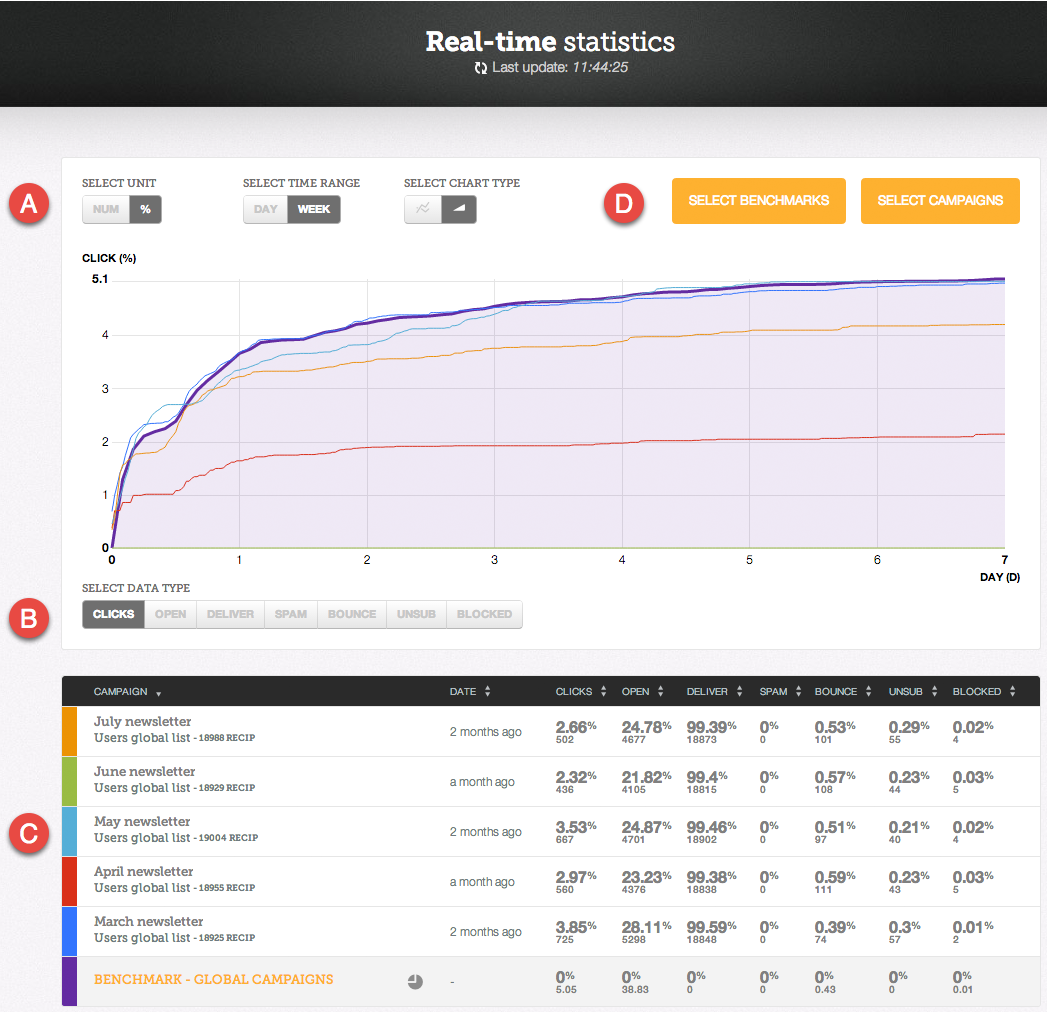 A) Graph + Display Options
You can view the results in a few different formats on the graph:

Select Unit: Display the values as percentages or absolute values.
Select Time Range: Show data per day or per week.
Select Chart Type: Select trend line or histogram.
If you place your mouse at any point on the graph, a popup will appear showing the elapsed time at that point and KPIs for each campaign.
B) Displayed Data Type

Click on the email status that you want displayed in the graph.
C) Table Data Display
The table data shows the lifetime results per metric per campaign and is continuously updated. Both the percentage and actual figures are displayed for each metric.
You can sort by campaign name, date, or metric, by simply clicking the 'arrows' at the top of each respective column.

D) Select Benchmarks
You can select a group of campaigns based on a set of filters and use its averaged data as a 'Benchmark' against other campaigns.
For example, you can group all campaigns sent in the month of January to a particular contact list. The resulting Benchmark will give the average for each metric (open, click, etc.).
Benchmarks are displayed as an 'area' on the graph, whereas a campaign is displayed as a coloured line. In the example to the left, the coloured light purple area is the average for a Benchmark.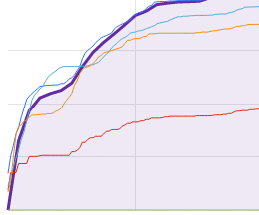 Create a Benchmark
Click the 'Select Benchmarks' button to get started.

On the new screen, you will see an already existing Benchmark called "3 Months Benchmark". As the name implies, this default Benchmark will always contain all campaigns sent in the last 3 months.
Click the 'Create New' button to create a new Benchmark.

Creating a Benchmark is very simple: search and add the desired campaigns just as you did in the Campaign Comparison section.
And it is very powerful: You can create a dynamic Benchmark that is updated automatically based on set criteria!
For example, you can create a Benchmark that will contain all the campaigns sent to a particular contact list. Anytime a new campaign is sent to that contact list, it will be automatically added to your Benchmark!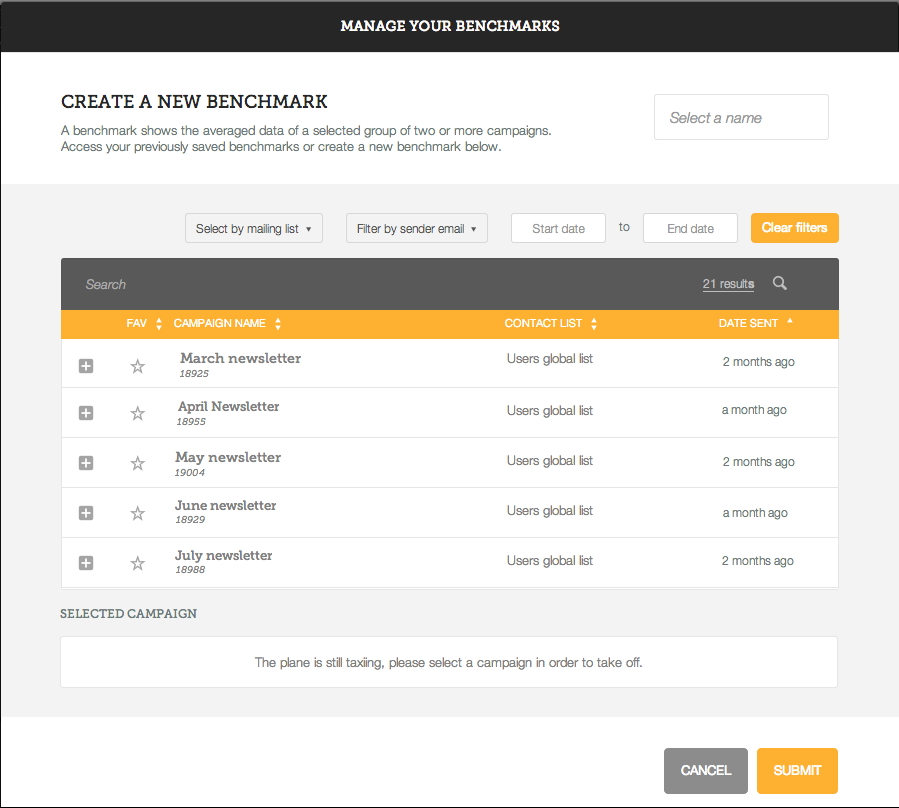 You can create dynamic Benchmarks based on a contact list, sender address, campaign subject and dates.
For this example, a Benchmark will be created that contains all the campaigns sent since July 1st, 2014. Any campaigns that are sent after July 1st will automatically be added to this Benchmark.
The first step is to select the start date to be July 1st.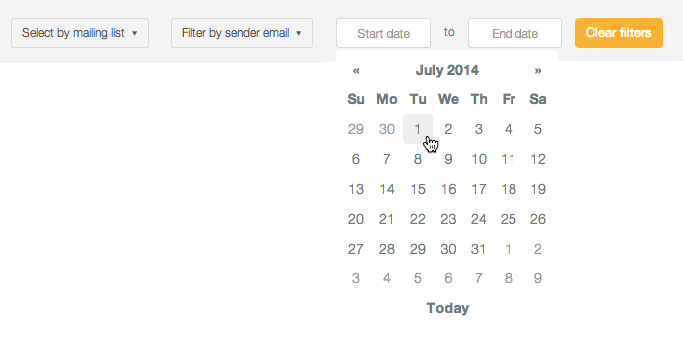 Once the date is selected, you will see a list of campaigns that were sent after July 1st, along with a new button 'Create Benchmark Using Search Criteria'.
Click the button to create the Benchmark.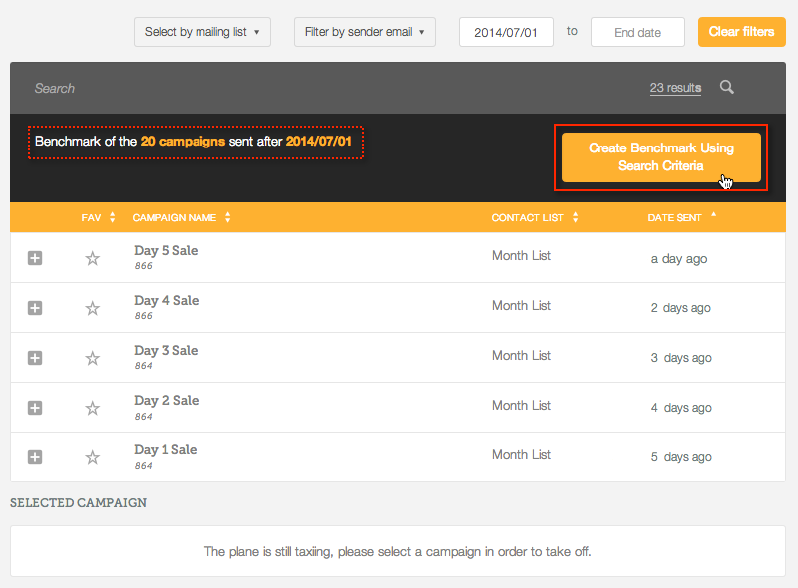 Enter the name of the new Benchmark.
Then click the 'Submit' button.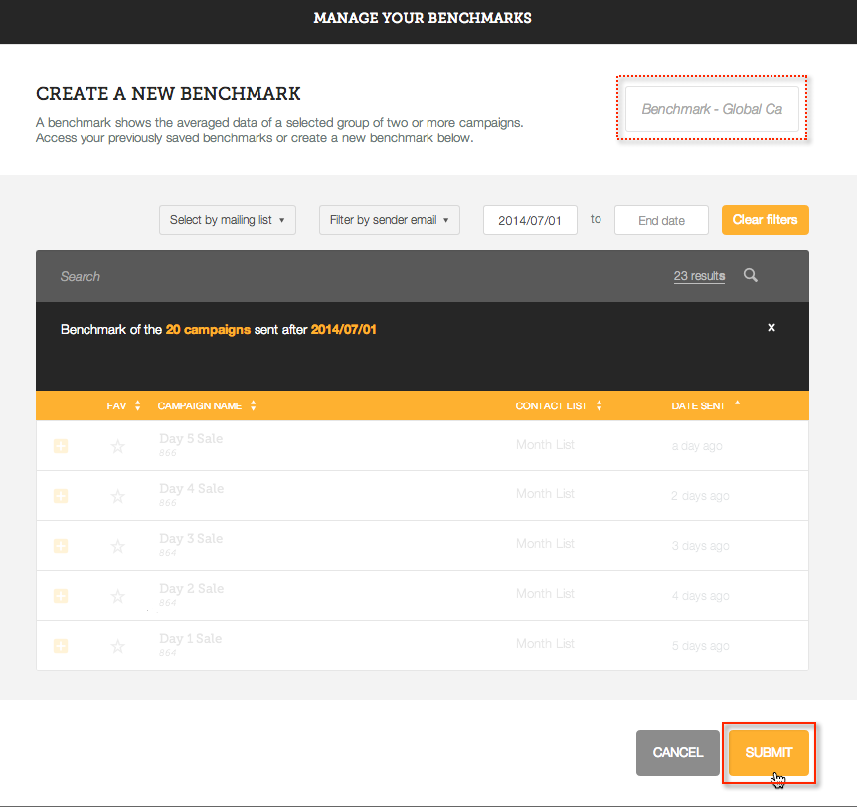 And you have created your first super-charged Benchmark!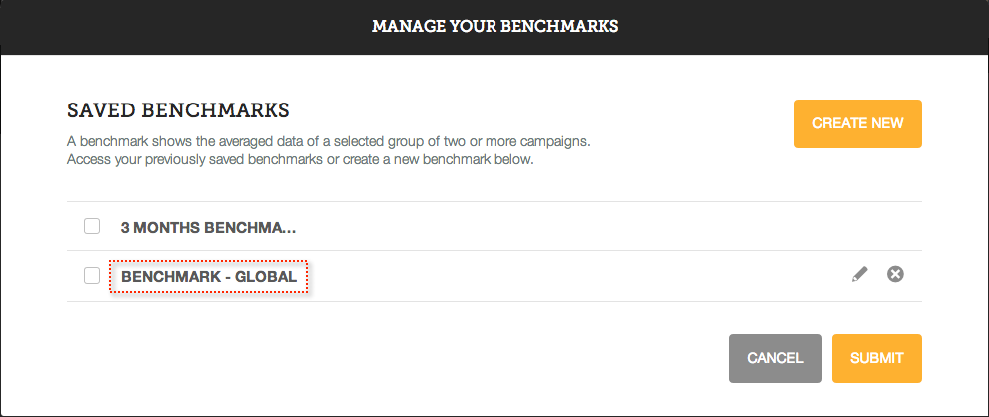 To edit any benchmark, simply click on the 'pencil' icon
To delete a benchmark, click the 'cross' icon
Click 'YES' to the confirmation message to delete the benchmark.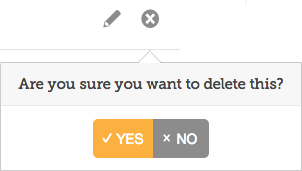 Be certain you want to erase the benchmark once a benchmark is deleted, it's gone gone gone.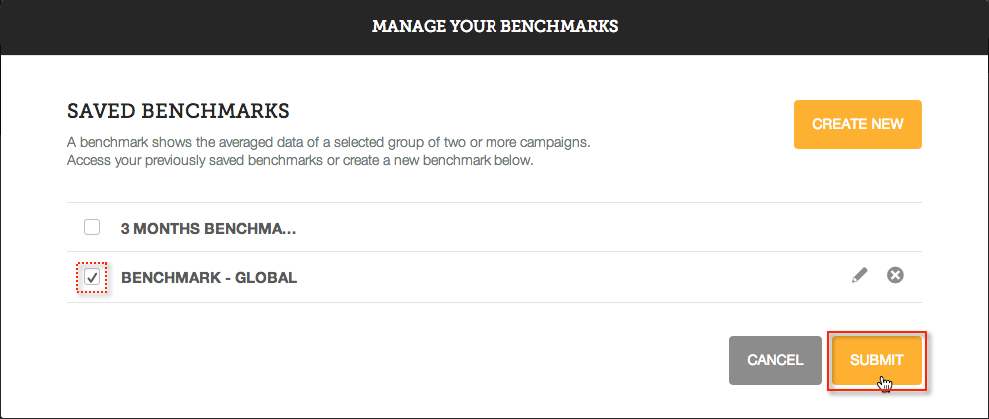 To display a benchmark, click the corresponding checkbox and then click 'Submit'.
Please note that you can only select up to 3 benchmarks to display at once.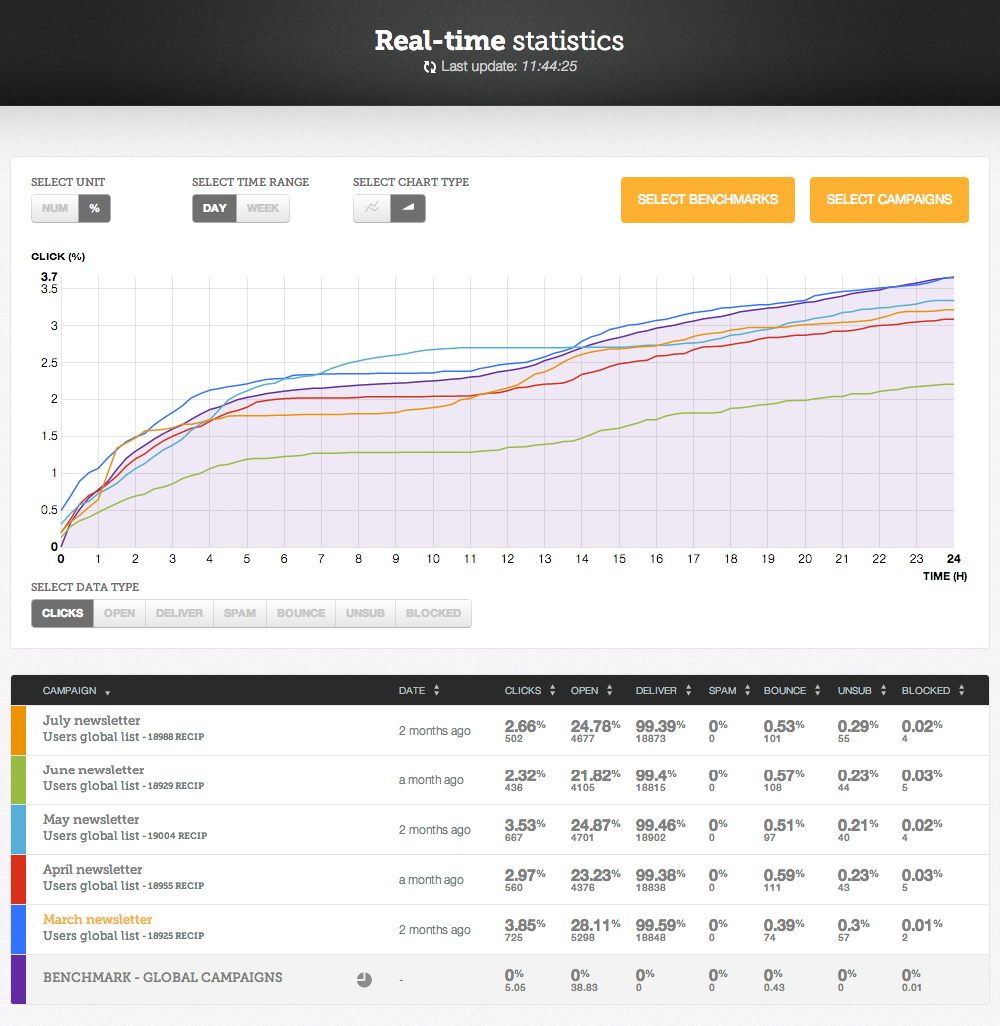 And that's a wrap! You are now ready to compare and optimize your email campaigns -- you're on your way to higher opens and clicks!
As always, if you have any questions or issues, please contact our support team. We're on standby 24/7, ready to help.
Happy Comparing!
Try Mailjet now ?
Create an account - no engagement, no hidden fees